Explore the Ben & Jerry's Factory: the Sweetest Spot in Vermont
This post may contain affiliate or referral links. Please see our full affiliate disclosure here.
If you're an ice cream lover who wondered what it might be like to be Charlie Bucket touring the Wonka factory, then a Ben and Jerry's factory tour is a must-visit destination for your family.
Okay, so there aren't any creepy boat rides and your child won't turn into a blueberry, but you will get an up-close look at where it all started for this iconic ice cream brand.
Waterbury, Vermont is about a 45-minute drive from Burlington, VT. and is home to the first Ben & Jerry's factory and is the only one that allows the public to tour through. So let's find out everything you need to know about the sweetest spot in Vermont.
Ben and Jerry's Factory Tour
The Ben and Jerry's factory tour is an interactive and fun experience that takes you behind the scenes of the making their iconic ice cream. The entire tour lasts approximately 30 minutes and ends with the good stuff – an ice cream tasting.
First, you'll watch a short video presentation where you will learn the interesting history of this one-of-a-kind ice cream company. You will then move onto the production room where you'll get a glimpse of how the ice cream is made. This is where the magic really happens.
The tour concludes in the flavor room. This delicious room is where you get a sample of the flavor of the day.
Note that photos are NOT allowed inside the production area of the tour.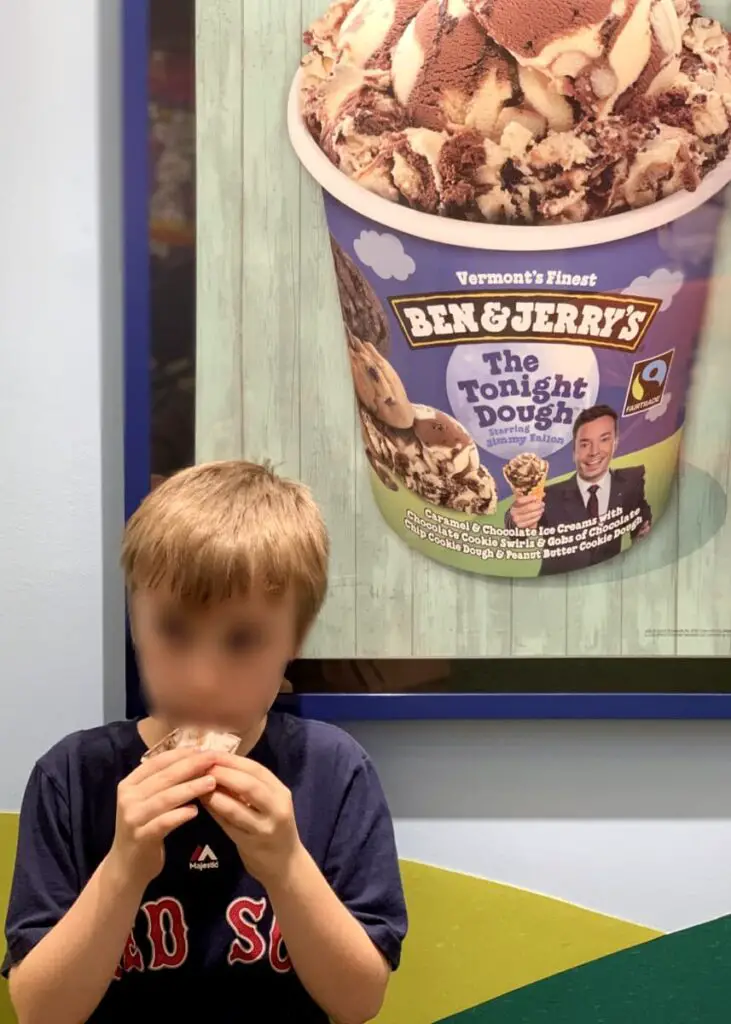 Tickets and Hours
Tickets for the factory tour can be purchased online or at the gift shop on-site. It is highly recommended to purchase tickets in advance as tours can sell out quickly.
The factory is open Tuesday to Saturday from 10 am to 6 pm and is closed on Sundays and Mondays.
Cow Jokes and Brownies
The factory tour is not just informative but also entertaining. The tour guides are known for their cow jokes and puns, making the tour even more enjoyable. You can also enjoy a delicious brownie or ice cream treat on the patio while enjoying the beautiful view.
The Ben and Jerry's factory tour is a family-friendly, educational, and delicious experience. Don't forget to mark your calendar for Free Cone Day, where you can enjoy a free scoop of your favorite flavor.
Location and Facilities
The Ben and Jerry's factory is located in Waterbury, Vermont, surrounded by the beautiful Green Mountains. During your visit, take in the beauty of the area and smell that fresh mountain air.
Ben & Jerry's Factory Address:
1281 Waterbury-Stowe Rd.,
Waterbury, VT.
The factory has ample parking, a gift shop, and a playground for the little ones. Don't forget to pose for your picture on the lid of a pint.
There is also a gas station and a convenience store nearby, which is important to note when traveling in small Vermont communities where stops are scarce.
Beyond the Tour
The factory tour is a popular choice, and rightly so, but there is more to do at the factory than just the tour.
Visit the Scoop Shop for a cone or cup of your favorite flavor, and browse the gift shop for fun mementos, ornaments, t-shirts, and more.
Walk the grounds to take in the beauty of the Green Mountains or bring little ones to run around on the playground.
Exploring the Flavor Graveyard
The Flavor Graveyard is a final resting place for discontinued Ben & Jerry's ice cream flavors. The company has been creating unique flavors since its founding in 1978, and not all of them have been hits.
Some flavors have been discontinued due to poor sales, while others were limited-time offerings that proved too difficult or expensive to produce on a regular basis.
Dastardly Mash was the first flavor to be retired and buried in the Flavor Graveyard in 1997. Since then, dozens of other flavors have been laid to rest, including Aloha Macadamia, Bovinity Divinity, and Cool Britannia.
The Flavor Graveyard is a small, fenced-in area located on the Ben & Jerry's factory grounds near the parking area. Visitors can walk through the graveyard and read the humorous epitaphs written for each flavor. The epitaphs often include puns and jokes related to the flavor's name or ingredients.
Tips for Visiting the Ben and Jerry's Factory
If you're planning to visit the factory, here are a few tips to keep in mind:
Check the website for tour times – the first step is to check Ben and Jerry's website for tour times. Tours are offered Monday-Thursday from 10 am-4 pm and Friday-Sunday from 10 am-5 pm. The factory is closed on major holidays, so check the website before planning your visit.
Purchase tickets in advance – While walk-ups are welcome, it is recommended that you purchase your tickets in advance, especially during peak season (May-October). This way, you will be guaranteed a spot on a tour and won't have a long wait. Tickets can be purchased online or by calling the factory directly.
Arrive early – Once you have your tickets, arrive early. Tours fill up quickly, so arriving early will ensure you get a spot on the tour.
Dress comfortably – Dress for the weather and remember that many of the main attractions are outside. Bring a sweatshirt or jacket if you think you might get cold.
Wear practical shoes – leave the stiletto heels at home. The grounds of the factory, including the parking area, is dirt and grass, which can be uneven. Sneakers or boots are the best choice of footwear.
Bring a small bag or purse – large bags aren't permitted inside the factory, so bring a small bag or just your camera and wallet.
Indulging in Scoop Shop Treats
Ben & Jerry's Scoop Shop is the perfect place to indulge in your favorite ice cream flavors. From classic flavors like Chocolate Fudge Brownie to seasonal favorites like Pumpkin Cheesecake, there's a flavor for everyone.
Flavors and Offerings
In addition to ice cream, Ben & Jerry's Scoop Shops offer a variety of treats to satisfy any sweet tooth. Choose from sundaes, shakes, and even an ice cream cake for your next celebration.
Special Events and Promotions
Keep your eyes open for special events and promotions at Ben & Jerry's Scoop Shop. There's always something new to try, from free cone day to limited edition flavors.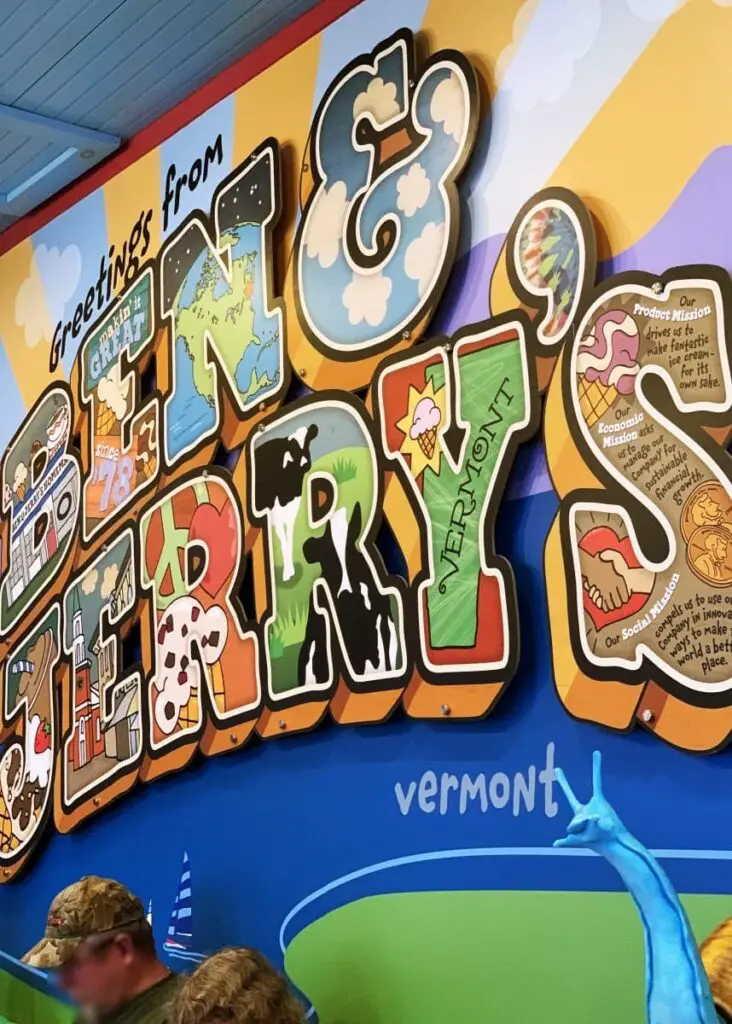 Final Thoughts
While visiting Vermont, a visit to the Ben and Jerry's Factory is a must-do for any ice cream lover. The factory tour provides an inside look at how the iconic ice cream is made and is an opportunity to learn about the company's commitment to amazing ice cream and social and environmental responsibility.
While the factory tour is the main attraction, there are plenty of other activities to enjoy in Waterbury. The town is home to delicious restaurants, shops, tours, and things to do, making it a great destination for a day trip or weekend getaway.
If you're planning a visit to the Ben & Jerry's Factory, don't forget to bring your appetite and stretchy pants; there are plenty of delicious flavors to try!